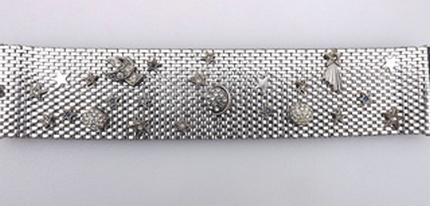 Amazing Kreisler Celestial Heavenly Bodies Bracelet
Retro 1940's
Seriously hard to come by as Kreisler mostly put out very high end watch bands. But as you see here they also designed some jewelry. This bracelet is crazy cool featuring a night sky theme with shooting stars, rhinestone planet and moons, and smaller stars all over, These are set on a wide, silver plated, mesh band. The mesh is constructed so well that the bracelet conforms perfectly to your wrist, quite sleek, especially for a piece this large! Feels wonderful on too! High end construction the mesh is super nice showing a gorgeous, classic, weave.
This piece is quite heavy weighing 3.6 oz. / 102.6 grams. It is Marked Kreisler U.S.A. on the locking slide in clasp.
Hidden clasp, you only see the small push tab when the bracelet is on.
Measures 7" long x 1~1/2" wide.
very good - excellent vintage condition no issues to note except that the silver finish shows some wear and fine scratches on the back of the upraised panels on the back of clasp only. This is ONLY on the 2 clasp panels and does not affect the beauty of this bracelet at all.
In my research I found one of these that sold for 499.99. This was in 2013. (WorthPoint). It also had some missing stones and a few other issues . Also, another one is currently listed. All have slight differences in the celestial bodies added to the bracelets, but even so you can tell this is done for variety in design and are still very similar
Fun piece to research and list. Almost want to keep it as it fits my 6~1/4" wrist beautifully!