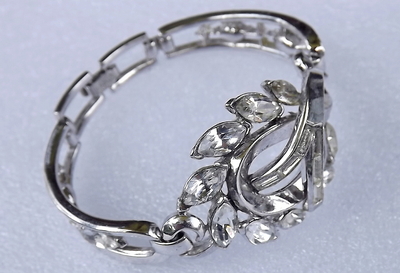 Trifari Pat. Pend — 1940's
Source: Researching Costume Jewelry
Beautiful bracelet similar to the Trifari "comet and even "Promenade" collections. Don't know what this design was named but it is striking!
This bracelet features a curved oval center with clear marquise rhinestones along the side /edge of the metal there. Then an upraised curved piece crosses over in the middle of that which has invisible set rhinestone baguettes in it. Marquise and tiny rhinestones are set in the center of the connecting stations of the bracelet as well. Altogether this makes
an elegant looping design which is very dimensional with an elegant and unique form. The articulated construction allows the whole centerpiece to lie beautifully on the wrist even though it is 3 dimensional and stands higher than connecting sides.
All silver rhodium plated metal
Condition: Very good - excellent vintage
Silver plating is beautiful and intact showing a durable, bright, silver rhodium plated finish. Clasp works properly and all rhinestones are present. Marquise stones are brilliant and sparkle beautifully. The baguettes are a bit less brilliant with slight clouding noted. Nothing serious, still beautiful regardless.
Difficult to measure the length due to the unique construction but it will fit a SMALL wrist only. Fits my 6~1/4" wrist perfectly"
Centerpiece measures 2" across x 1~1/4" long. Add in the higher crossover piece and it measures approx. 1~3/8" long
This is an uncommon design, I only found one other on the internet in my searches and I sure look hard. Wanted to find a name to this design but so far have not. It is a wonderful piece to add to any mid century Trifari collection