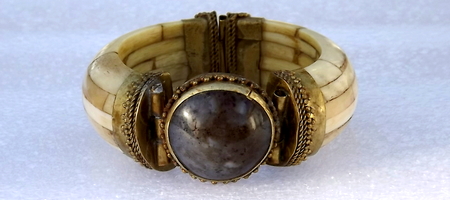 Vintage Tribal, Ethnic, Chunky, Bone & Gemstone Bracelet, a Truly Massive Boho Statement Piece!
Warm ivory colors of inlaid ox bone panels curve around to encircle the wrist then culminating into a huge, grayish green, mottled, Ocean Jasper gemstone at the front. This Bracelet is impressive in size which will will demand notice on any wrist. It looks to be India or Afghanstan Made. The brass hardware features heavy granulation and one can see much work and artistic labor went into the making of it. Beautiful vintage condition with a darkened patina and somewhat stressed look which gives it the look of ancient cultures and ancient times. Features a pin and hinge clasp closure at the back of the piece. Looks like it could use a gentle cleaning but I love the ancient look and feel of this piece and would only give it a light cleaning if any at all.
Inside opening measures 2.5" in diameter
Outer width measurement is 1~7/8" wide and this was measured with a soft tape to go all the way around the entire, curved, contour, of it.
Gemstone cabochone measures approx. 30mm round.
Weighs 2.92 oz. or approx. 82 grams
Of interest: Ox is a kind of a bullock, which due to its strength and high resistance to extreme temperatures is widely used by tribal nomadic people from the areas where these bracelets are made. An ox may live for quite a long time, but when it dies, the keeper of that ox does not waste anything from it, even its' bones. Making cubic mosaics from the bones and joining them together gives these bracelets their shape. The jewelry made out of their bones is a way to stay connected and remind them of their old friend who accompanied them over the entire span of its' life in traveling and work.