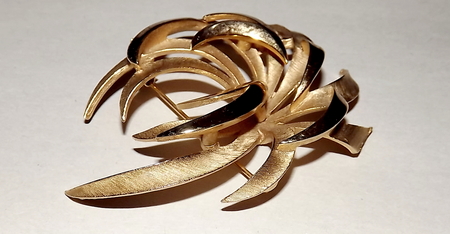 Beautiful Brooch by Trifari
Rare "Fireworks" design
Great For July 4th!
Trifari's use of dimension and form, both textured and smooth metal work, as well as both bright and brushed gold / silver plating in their 60's designs makes for unusual, unique, high quality, jewelry. All of this in the same piece! Quite wonderful, you wear a miniature work of art
Energize yourself by wearing this dramatic, elegant, brooch which sure looks like a fireworks display to me! 3 dimensional, large, pin, with long, curved, spikes, which shoot out from the center, definitely like fireworks! Features both brushed and bright gold plated finishes, with the bright gold area being rhodium plated. Looks and feels like real gold and with the high quality construction which make these pieces so sought after today.
High quality construction, excellent vintage condition!
Measures 2~3/4 long x approx. 2" across
A lovely addition to your vintage Trifari jewelry collection as well as a lovely brooch to wear all year round.