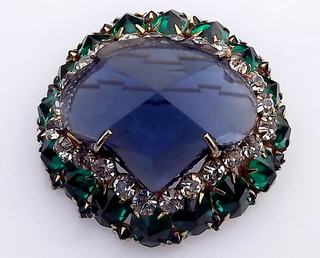 I received this email the day I listed this brooch. It sold that same day, even before I was able to add it to the original listing, but am thrilled to be able to keep and add this to my archives. So awesome to have it now, adds interest as well as rare history to the piece!
Many thanks to SDA !
"Feel free to add to your post. I'm Henry Schreiner's grandson. After Henry died mom. and dad took over the business. The center stone was bought up by my grand dad, as an odd lot somewhere in the 30ss, or 40ss. He often bought up other manufactures inventory when they went out of business. These stones were very old, even then. My dad, Ambros was able to design hand made settings to use many of the old, odd lots of stones my grandfather bought through the years. These came in several different colors, and dad used up everyone. These also were sold to the dept. stores, since there were not enough to sell to the designers. Best of luck to you! SDA"
Distinct Schreiner construction elements include the "hook and eye" back and points up glass stones.
This spectacular brooch is made by Schreiner of New York.
Moghul, Mogul, design and colors
Unsigned but with the construction details listed above
Spectacular, rare, center stone is huge! Measures 33 x 30 mm, it most likely was cut for Schreiner pieces only. The shape is one I've not seen before and the shade is a Montana blue color.
High domed design, this blue stone is set highest on the piece with clear diamante rhinestones set surrounding it below, then oval cut teal green glass stones below those, then tiny green stones at the lowest tier. All green stones are set with the points up
Measures approx. 2~1/8" across x 2~1/4" long, however, I measured with a soft tape due to the domed construction where it is 3" across x 2~1/2" long
Adding more interest to the piece is that it is higher on one side than the other (length one) measuring 1" tall at the top side.
Beautiful vintage condition. The huge stone is gorgeous with no issues seen on the front. When I was taking photos of the back this stone showed a very faint scratch. You can notice it from the front view only if not wearing it. Because it is transparent it shows only when holding it so the light shines through it. When wearing it it is not so transparent so you can't see it.
Please note the enlarged photos that show this.
I will say that this is not a big enough issue to lower the value of this amazing brooch