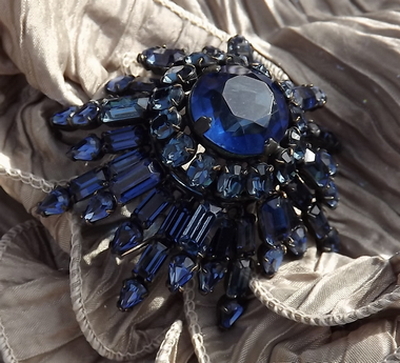 Relisted with better photos, first listing pics did not show this gorgeous pin accurately. It's still much more beautiful in hand than my updated photos show but at least these are an improvement, lol
This spectacular brooch is made by Schreiner of New York. Unsigned but with obvious construction details the most prominent one being the back which has the 2 part linked connector. Because the brooch is so high ( 2") it has a double ring so the hook and eye is not present. Taller hooks are used to connect the 2 rings together.
The gorgeous stones are a deep midnight blue color and include various shapes and sizes. The top layer is one huge, faceted, round stone, below that is a circle of oval stones, then a layer of baguettes and pear shaped stones. These are actually made as one piece with the 2 stones together.
Below that you see the baguettes pear combination again but in a smaller version. One set is longer than the other by using 2 baguettes with the pear stones. This gives the piece it's extremely unique shape. Best description would be a very 3 dimensional, stepped, layered, design.
Black, aka japanned metal gives it a deep rich color all over.
Very good - excellent vintage condition, no issues to note
Measures approx. 2~5/8" across at the bottom x 2" high
Large top stone measure 18mm round
Please see all photos for best description and close up details
Schreiner of New York made many, many unmarked brooches. Some of these are quite easy to identify once you've handled marked pieces because the same settings were used with different stone and color combinations. Other pieces are quite unique, but still have notable attributes that point to Schreiner.
Some stones, like their large keystones found in highly coveted "ruffle" brooches were commissioned exclusively for Schreiner. Other stones used in their designs were made in very limited quantities, so they are not commonly seen. A number of those types of stones required special settings to be made to hold them. Schreiner was a company that made the extremely high domed brooches which was no small feat. Special components were made to accommodate this unique feature
One very distinct construction detail to look for is the "hook and eye" found by examining the backs of these pieces. They are often made in more than one part and linked together by a metal wire (the hook) that fits through a loop-shaped finding (the eye) to hold the layered components together. Not all Schreiner brooches were made this way, but many were.
Please note this brooch has a slight variation of this due to its' extreme height.