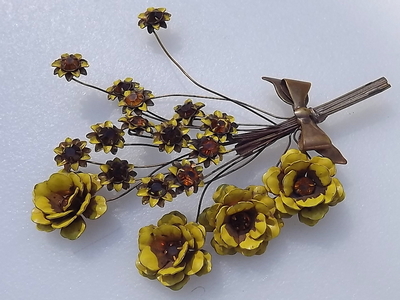 Rare Vintage Trembler Flower Spray Brooch Springtime Beauty
Some Sandor pieces are unsigned, I've sold several spectacular enamel flower spray tremblers that were not. I have added a group photo of 3 brooches which includes this yellow pin.
Please keep in mind this listing is for the yellow flower spray brooch only. The blue enameled one is signed and is now for sale also. Check it out! The one at the top of the photo is in my collection and is not for sale. It is unsigned.
Yellow enameled roses make a lovely bouquet. Attached onto fine wires they are "tied" with a bow and feature brown rhinestones in their centers. A lovely Spring Summer brooch but with the brown stones they are beautiful in Autumn as well.
All original and in beautiful vintage condition. The enamel is intact and metal has a warm patina on it now
Measures 4" long x 3" across