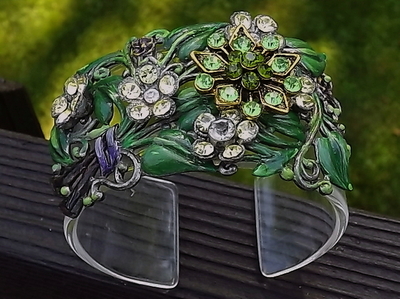 Enameled Flower Spray brooch tied with a ribbon brooch was in need of restoration so I decided to completely enamel it and add it to this modern lucite cuff bracelet. Had some small, newer, rhinestone pins also so here they all are together on this one of a kind Ellen Originals bracelet! Always love a 3 dimensional look which gets everyone's attention and is is fun to wear.
Being a professional porcelain artist for many years I now use my skills to enamel old jewelry pieces. (When I have time). Some to completely restore and sell, others to use as focal areas on jewelry pieces I make to wear. No rules on these, just go with what's in my head, lol! If you feel you need something green and gardenesque with a 1930's feel (yet contemporary) you will love this bracelet!
Measures 1~1/4" wide
Fits a wrist size of 6~1/2", possibly 7"
Has my silver Ellen Originals cartouche on the back
Check out all photos for best details