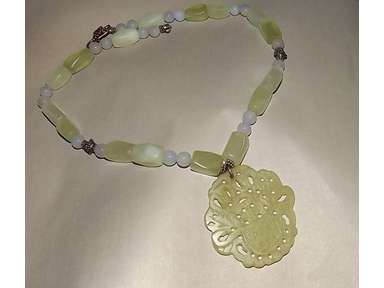 Jade signifies serenity, purity, and wisdom gathered in tranquility. It increases love and nurturing. This protective stone keeps the wearer from harm and brings harmony. It attracts good luck and friendship as well as stabilizing the personality. It promotes self-sufficiency. The soothing colors of the light green and lavender colors calm the spirit releasing negative thoughts. Promotes ideas. A "dream stone", Jade brings insightful dreams. Helps to release emotions, especially of irritability. Jade encourages you to become who you really are.
As for simply the beauty of the stone this gorgeous Jade necklace pendant is top notch. All stones are in the beautiful light green jade shades with accent beads of lavender Jade. The large beads are unusual in shape, please view the photos as they are the best description here.
Excellent condition!
Light patina on the sterling components which can easily be removed if desired. I like patia so am letting the new owner decide
Photos do not do this piece justice, it is much more beautiful in hand
Measures 19.5" long
Chinese carved pendant is large measuring 2~1/8" x 2"
Beautiful sterling silver clasp and accent beads
Too large for my jewelry scale it weighs 3.2 oz. on my postal scale