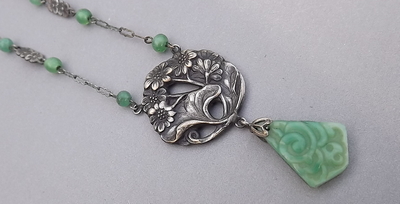 Gorgeous 1920's Art Nouveau Czech Pendant Necklace
Molded Peking Glass Drop
Delicate Fine Workmanship
Unsigned Art Nouveau Czechoslovakian Beauty
Please read my notes on peking glass at the end of this listing.
Gorgeous repousse pendant features an oriental theme with Lotus leaves and flowers. Interestingly enough, the blooms resemble daisies much more than they do Lotus Blossoms.
No matter, it's a lovely fine, design in silver plated brass metal.
A molded glass drop hangs from this piece which also has a delicate Art Nouveau, oriental/chinese design. Made to look like Jadeite Jade which the Czech artisans were so expert in creating. The neck chain is very fine and features the delicate, open link design, which was so popular in the 1920's era. Small glass beads and embossed metal links in a floral design are added for more beauty and interest, which is another customary Czech design element.
This piece is in very good vintage condition for the period. The clasp, which has an embossed flower on it, has lost all of the silver plated finish The silver plated finish is intact on the rest of the piece, however, in certain light one can glimpse the brass metal below the plating on the main station. Very faintly but I noticed this while taking photos outside.
Nice patina now on the metal
Measures 16~1/2" long, 2" long total drop length
I was honored to receive the following information from an Ebay member : Many many beads are called "Peking glass" that are not the beads originally so-identified. These include Chinese beads from the Boshan industries (that are very different in manufacture), Japanese beads, Korean beads, and European beads—both Czech and Venetian. These are instances, not of "inclusiveness" but of mistaken identity. Nevertheless, most of those industries (except at Boshan) intentionally tried to make beads that were Chinese-like. But they are distinguishable, because their fabric is different, colors can be different, and many of these beads were lampworked or even molded (which the Chinese beads were not—being furnace-wound beads).
Credentials are as follows: "I have been involved in beads for 53 years. I'm a published researcher and author, lecturer, consultant, and appraiser. I was the Curator for The Bead Museum for twelve years. I'm also the Co-Founder (with Peter Francis) of The Society of Bead Researchers (1981), that has become an international organization. I collect and study beads from all times and origins, all materials, techniques, and permutations.
"Many thanks to jamey4beads for giving me this info. I have sold czech jewelry for many years and did not know this about what we (I) have always referred to as peking glass!