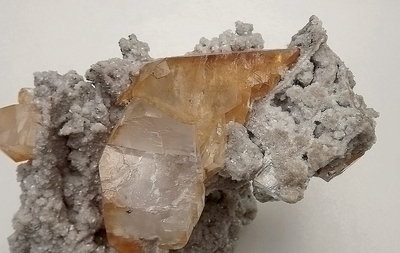 SUPERIOR CALCITE DOLOMITE SPECIMEN FROM THE ELMWOOD MINE CARTHAGE TENNESSEE
SPECIAL METAPHYSICAL PROPERTIES - RECORD KEEPER
This beautiful specimen is much more beautiful in hand than these photos show. It has many angles and sides to it that are seen in 3 dimension reality, just impossible for my camera to pick up. It does stand by itself when in the "tallest" pose making a striking art form display piece with the largest calcite nestled into the dolomite with the other calcites flowing out from the dolomite in a beautiful way.
The largest calcite is quite "gemmy" with many triangular pyramid shapes seen when looking down at it from the top view. There is a tiny pyramid shaped crystal on the big calcite, it's on the downward edge of it, check out photo # 9. An incredible piece for Metaphysical use as well with layers and layers of depth and clarity in the largest calcite. It's mesmerizing, just get pulled right into it!
So... Please look at the many photos and email me with any questions you may have.
Very nice condition with minimal scrapes here and there on the more squared calcites. The calcites with points are very clean with only one point on a secondary crystal that has a very tiny speck on the edge of it.
Height - approx. 4~3/4" highest point
Approx. 6" across t the top