Sold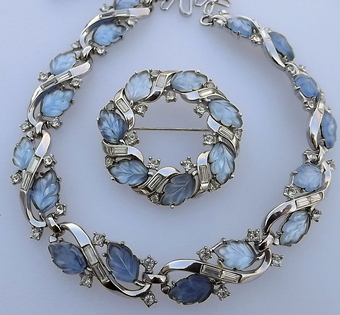 Info from the internet as follows:
Trifari named this set "Allure" and included it among 10 designs featured in their ad in the April 15, 1957 issue of Life Magazine. This necklace was $10, and the earrings, $7.50. A bracelet in the same design was $10. (Note that in 1950, the average U.S. family's income was about $81 per week.) Another interesting point in the ad is that it states "Jewelry designs copyrighted" and "© 1957 Trifari". By this time costume jewelry makers were no longer applying for patents to protect their designs.
Can be seen in the book by Julia Carroll, "Collecting Costume Jewelry, 202
This set by Trifari features molded moonstone glass ice blue colored leaves with clear round and baguette diamanté accents set in silver rhodium plated metal. Hard to find these days, the icy blue moonstone look of the glass leaves is especially desirable.The necklace has an extender with a hook-and-tail or shepherd's hook closure.
Excellent - pristine vintage condition, looks as if it was never worn. The stone that looks darker in the photos is just in shadow, it is the same color as all of the others.
Necklace - 16" total adjustable length
Brooch - 1~1/2" round in diameter