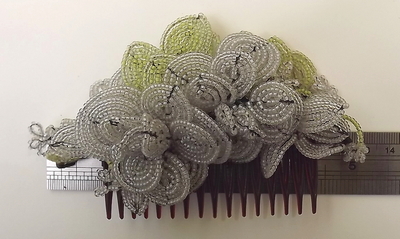 Exquisite Vintage Hair Comb Tiny Glass Beads
Heavily beaded with hundreds of tiny glass seed beads which have been intricately hand wired together to form a massive cluster of flowers which shimmer and sparkle as you wear it

It looks to be from the 1940's-50's era
Reminds me of the intricate wire work done by Miriam Haskell back in the day

3 dimensional layering design of the flowers is stunning

Being such a large cluster with such a mass of beads it is still very elegant and classic, what a gorgeous piece to wear at a wedding or prom
The beads used for the flowers are semi transparent white and the beads used for the leaves are a semi transparent very delicate light yellow green color. When looking further inside the layers of flower clusters I see 3 extremely fine delicate wires with transparent light yellow seed beads on them which depict the stamens in 2 of the flowers. All perfectly intact which is truly amazing as they are so fine. When looking at them with a loupe you will see they are super fine wires which are twisted making the finest of stems
It's in such excellent condition I believe it was never or rarely used
Measurements:
The flower cluster measures 4~5/8" across x approx. 2~7/16" long x 1~1/2" high. This is the beaded flower portion alone.

With the comb it measures 3~1/8" long.
I can accurately say this is a work of art which will be a beautiful hair ornament as well as piece to treasure in any jewelry accessory collection