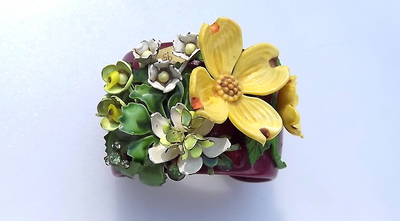 One of favorite flower bracelets because it has that huge, cheerful, dogwood blossom, that pops out at you! As is normal for my designs it is large, 3 dimensional, and totally fun to wear.
The flowers are all vintage, mostly from the 1950's era and all enameled. There are a few peridot green rhinestones here and there which add a nice bit of sparkle. The dogwood blossom, as well as its leaves, are made from a hard plastic. The plastic cuff is wide, so there are a lot of flowers on it giving the piece some weight, but not too much if you are used to wearing large bracelets. The color combination is so pretty with the maroon cuff bracelet contrasting nicely with the yellows, greens, and whites, in the blossoms.
The condition is lovely!
I left the metal flowers original as found even though you can see a bit of enamel wear here and there. I decided to leave it, to me it just adds to the charm of the piece
Measures 2" wide
It has my Ellen Original cartouche on the back
The cuff, though wide, fits a small wrist only, 6~1/2" and smaller. I had made it for me originally but as I am planning some new designs I decided if it's for sale I would be quicker in making more, lol!. It's been a while since my last collections were made, all are sold but one which needs some work to be done on it. It is a Spring Summer piece so keep checking the site as I want to get it out for sale soon.
You can view the sold ones in my Archives category, maybe request a special size, or color combination
Love the season, hope you all get out soon to enjoy sunshine and the wonderful areas you like best this summer!,