FRAMED ART OVERFLOWING FLOWER PLANTER ORNATE GILDED FRAME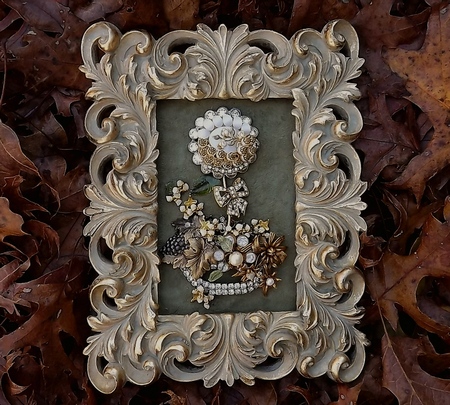 VINTAGE FRAMED RHINESTONE JEWELRY ART DISPLAY
DECORATIVE, NOT NECESSARILY HOLIDAY, NICE DISPLAY FOR AUTUMN AND WINTER SEASONS
SHIMMERING GARDEN TOPIARY POTTERY PLANTER THEME
This jewelry art composition is an all original, one of a kind artwork which has been designed and arranged with vintage jewelry, a passion of mine. Some pieces have been restored to their original brilliance in the way of stone replacements, others have been left original. Some have been altered by having been cut to fit the desired scene arrangement. Each finished piece is high quality, professionally re-created with an artistic vision that takes otherwise abandoned jewelry and turns it into a new art original, perfect to collect and show or to give as a special gift. Please note that even though there has been restoration to some of the jewelry, you may still see slight imperfections. I believe this just adds to the charm of these wonderful creations. Frames may be new or vintage, but always chosen to accent each scene beautifully. I will be adding more to this category from here on out, please check in often
.
All designs have a point of view, nothing is just thrown together randomly. The time arranging everything takes hours, many, many, pieces of jewelry are needed to complete each scene or subject
Also, every piece will have my Ellen original cartouche on the back.
Burned myself out a bit designing and constructing my first collection which sold out, then another collection was designed, sold out also, then several more but slowed down designing them. The large ones were sold locally here. Thought I would have a lot more in a new collection but didn't have time to design as much as I would like to.... Very time consuming, lol~ Anyway, thanks go to all of you who purchased them.
All of the jewelry in this piece is vintage, circa 1930's-1960's. Though this framed work is one of my larger ones it is easily displayed almost anywhere as it's not huge. It features an especially 3 dimensional design featuring an overflowing planter filled with jewelry in the form of grapes, leaves, and flowers which spill out over the top of it. Some gemstones are also used which include Jade and quartz .(I think it's quartz) These are all arranged in a layered, 3 dimensional design. A large single flower stem comes up from the center featuring a very big, fancy, bloom. Quite dramatic if I say so myself, lol~ You can check out my other sold pieces which I keep photos of, just hit the Ellen Originals Sold category. This is not necessarily a Christmas theme but still incorporates Christmas in it. The bow on the stem gives it a festive, holiday flair. Made to display year round. As usual it was difficult to get good photos so please keep in mind it is much much more beautiful in hand than the pics show. The frame is fabulous, super dimensional and ornate with beautifully designed, gilded scrolls in an elegant, light, grayed green gold finish.Compliments the scene depicted nicely. Because a few pieces of jewelry used in this picture have been restored, mostly by replaced stones, this piece is in excellent vintage condition. It is a my one of a kind originals, quite different from most of what you see online.
view sold ones in "archives - Ellen's Designs - framed Rhinestone Art, email me for special requests / designs
miniatures also available, not sure if there are photos in my sold items of those.
MEASUREMENTS:

Height - 9 1/2"

Width - 7~1/2 " at the widest point, top and bottom,
7" across at the center
Inner Design Area Measurement - 5~1/2" long x 3~1/2" across
I will be adding more designs as soon as possible. Keep checking in!
Please email me with any questions you may have.
THE FRAME IS EASEL-BACKED FOR TABLE DISPLAY.