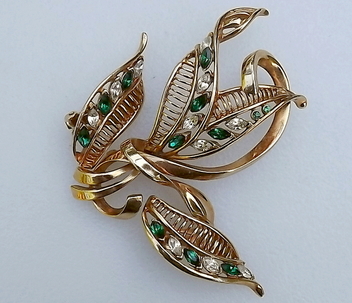 Jewels By Julio
" Jewels by Julio" jewelry pieces were designed by Julio Marsella. His company name was Marner. Some of the jewelry is marked Marmer and some "Jewels by Julio". Also, certain pieces have two marks; one with "Marmer" and one with "Jewels by Julio". Some of his very best designs are difficult to find. He designed and made jewelry for many other companies including Hobe, Kramer, & Hattie Carnegie. The company operated from 1946 until 1957, when the company shut down during a huge downswing of business. Julio never made or designed jewelry again. He died in 1985
A Providence, RI Company.
This elegant brooch and earrings set are beautiful examples of the quality jewelry produced by Julio Marsella
Elegant, classic, set in a retro design is reminiscent of the periods' flower spray pieces but with leaves instead of flowers in the design. The gold plated metal is rich looking, I am fairly certain it's gold filled though it's not marked. Small green and clear marquise rhinestones add a lovely touch of sparkle to the whole look.
Excellent vintage condition with all stones are present and sparkly
High quality set with substantial weight, looks and feels like fine jewelry
Please view all photos for main description.
Brooch measures 3" long x 2" across
Clip earrings measure 1~1/4" long