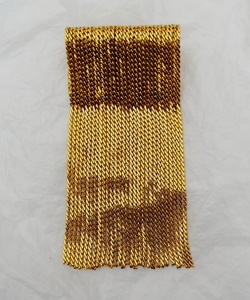 Pure golden elegance, this brooch is like liquid gold! Constructed of nothing but chains which are so closely put together that the pin looks like a golden waterfall. The chains sway gently as you wear it, most certainly a unique piece, it's the only one like it I've seen in my years of selling vintage costume jewelry.
Beautifully made it resembles real gold in weight as well as in the look.
Dates to the 1980's era. Measures approx. 3.5" long.
Excellent vintage condition with no fading or wear to the finish at all.
If you love the look and feel of genuine gold this will be a brooch to have.