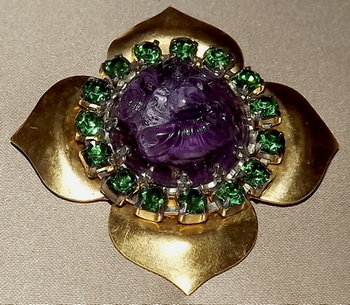 From the 1920s through the end of the 1930s, the majority of Chanel jewelry was not signed. She believed in creating a completely accessorized look where the jewelry was meant to be part of an overall look (or outfit). It is generally accepted that the date that pieces began to be signed was 1954. However, Patrick Mauries states that some of the Chanel costume jewelry designed by Fulco di Verdura in the 30s is marked Chanel, page 89-90. However, it is presumed that most of Chanel jewelry at this time was not signed, other than France, or made in France. if at all.
This beautiful flower pin features a large, purple, poured, molded, glass centerpiece with green rhinestones surrounding it.
Glass center looks like an amethyst gemstone, but indeed,
Gold plated brass petals are dimensional with lovely form. Graceful, exotic, this pin is a rare find and a wonderful addition to your vintage jewelry collection
The pin back is a very old style, not quite a C clasp but a tightly rolled design where the pin is pushed up into. Please view all close up photos of it. I am not sure if it is missing a anything, it clasps securely and I don't see a place where anything was added there. Two green stones are darker than the rest. One of the shows darker in the photos than it actually is.
Other than that everything is fine with only very faint scratches seen on the gold leaves if looking closely