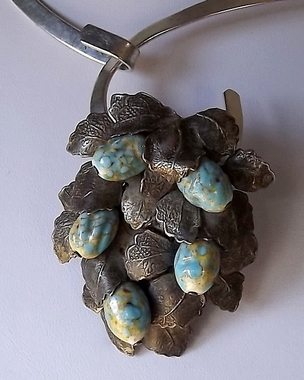 Beautifully unique this is a rare dress clip Signed SINGER AND KANTOR.
Not much is known about this company and very few pieces are seen offered for sale. The info found is that They were in existence from 1930 to the early 1940's in New York. That's all that I was able to find on them.
CIRCA 1931, WEAR IT LIKE THIS - I added this clip to a neck chain (or other enhancements) to show different ways to wear it
IT IS SHOWN AS A NECKLACE IN 2 PHOTOS. PLEASE NOTE THE BOOK CHAIN NECKLACE AND SILVER COLLAR ARE NOT FOR SALE
This clip is so 3 dimensional! The silver metal leaves show fine detail in the intricately embossed metal. The turquoise glass beads are certain to have been made made by the glass artisans in the Czechoslovakia (Northern Bohemia) Bavaria, Thuringia, Silesia area. They sure look like real turquoise showing color and veining that genuine turquoise exhibits. The leaves are expertly detailed, thickly layered on top of each other with the back of the glass beads tucked beneath them. The veins and texture of each leaf is amazing, beautifully designed and life like as they curl up and over each other. The metal is brass which has been silver plated, (you can see a bit of brass showing beneath the silver in a few areas)
This clip is in excellent vintage condition. The patina is beautiful and the glass beads have no flaws or damage. It is signed Singer & kantor 498 7th Ave NY. The clip mechanism has the patent number 1801128 which dates it to 1931. Wear your dress clips attached to simple necklace chains, metal collars, or pearls so some of the photos show it this way.
MEASUREMENTS:
2~1/4" long x approx. 2" wide.
A wonderful piece for the collector and a beautiful unique item to wear!