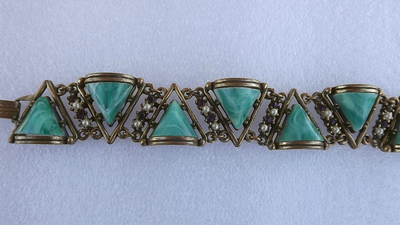 FABULOUS BRACELET BY SELRO SELINI
MANY PIECES OF SELRO WERE UNSIGNED
Collectible Vintage Jewelry - Selro Selini
Whether you collect, know someone who does, or just want a one of a kind gif, for the serious collector, this rare bracelet would be perfect.
Unique design as is customary for Selro Selini, this piece features large, 3 dimensional, pyramid/triangular shaped plastic stones in a marbled green color. These are cut thick and are in high relief. Faux pearls and purple rhinestones accent these large stones with everything set in antique brass metal. The 6 link design is substantial, yet elegant, with that avant garde look Selro collectors love.
Measures 7~3/4" long x 1" wide with a fold over clasp.
Please keep in mind that due to the width this bracelet fits a wrist approx. 7" and under
This bracelet is in very good vintage condition with nothing more to note than what is usual in patina and gentle wear according to the age of the piece. No visible issues, it's beautiful!
This will be a crown jewel in any vintage jewelry collection but especially the Selro Selini one
photos are the best description, but please keep in mind they are enlarged to show best detail