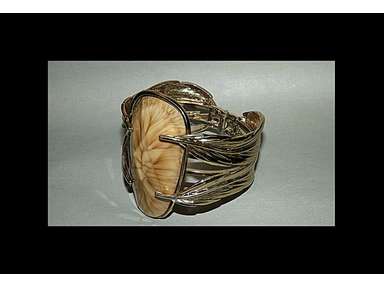 Please Note: The color here was very difficult to capture. The gold is a bit more goldy but not a bright brassy gold color. The lucite shows a faint touch of olivine green in it. Very unique shade! Did the best I could, added flash and non flash photos so actually pretty close!

Features a huge, really HUGE, faceted lucite focal stone
Gold Plated Metal (light elegant finish, not brassy at all )
Very light olivine color of the lucite with delicate brown veining throughout gives that stone a mystical look
Embossed, long, tapered leaves
The open, airy, leaf design, with lovely detail in the leaves, along with the light colored,
gold plated finish, gives this spectacular piece its elegant look
Excellent, like new, vintage condition
Fits a medium wrist
Inner opening measures 2~1/2" across x 2" long (north -south) Stone measures 2~1/8" long but is actually 2~1/4" when adding the height when measuring with a soft tape
Side or wrist area of the bangle measures 1~1/2" wide all the way to the clasp where the more narrow leaf points end at the hinge.
Substantial bracelet it weighs 93.2 grams / 3.3 oz
High Quality all the way!