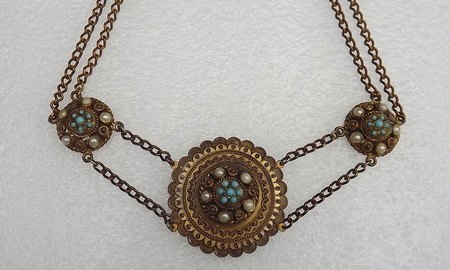 Mark: Ricarde of Hollywood
Made jewelry inspired by the movie "Gone With The Wind" according to a 1939 ad.
In 1939, Ricarde of hollywood came out with several lines of gone with the wind jewelry, this being from the Suellen line.
Seriously rare, others in this line that sold had damage, one, a brooch, sold for $550 with almost all stones gone. This piece, with 3 medallions, is in wonderful vintage condition, all stones present and beautiful.
It features 3 medallion stations with simulated turquoise and pearl stones decorating the centers. The brass metal is intricately detailed with rope designs and tiny beading resembling Etruscan work. Brass chains attach the stations together making an elegant festoon
Very good - excellent vintage condition for the age of the piece
Metal has a warm patina now
Necklace measures approx. 18~3/4" long ending with a spring ring clasp
Center medallion measures just over 1~3/4" in diameter (1~13/16")
Side medallions measure 7/8" in diameter
Signed on the back of the main medallion