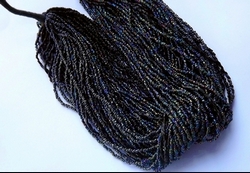 SPECTACULAR TORSADE NECKLACE,
1940's-50's STATEMENT PIECE
Shimmering Midnight Blue Carnival Aurora Borealis Glass Beads
Incredible vintage torsade necklace dating to the 1940's-50's era. Features thousands of tiny glass beads in several shades which include aurora borealis midnight blue peacock beads, steely black beads, solid black beads as well as beads which have a black green and black red tone to them. Altogether these make a fabulous necklace which shimmers and glints as you wear it.
There are 2 shapes of beads used in this piece. The carnival glass peacock beads and steely black beads are round seed beads while the black ones are in 2 shapes, one round, the other a bugle bead. This gives the necklace a wonderful combination of shapes and deep dark tones.
With so many beads it is thick and wide yet it drapes elegantly around the neck. The back of the necklace is made with black thread or string which has been twined around a cord making a thick rope with a button and loop for the closure.
The colors in this necklace were difficult to capture in the photos, I was able to pick them up but please know it is much more vibrant and beautiful in hand then what I could show in a photo.
Measures 22~1/2" long
If you enjoy wearing bold fabulous jewelry jewelry this is a knock out and is sure to be a favorite in your jewelry collection