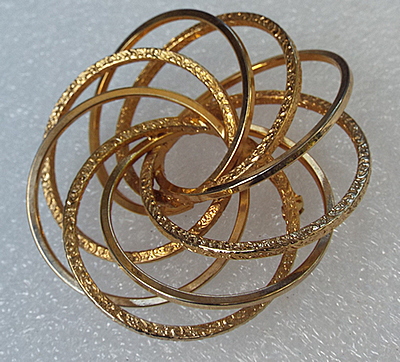 1960's "Modernist" Brooch. Striking size measuring 3" with swirling, open, space age style, slender, swirling, gold plated bands. Popular 60's modernist design made in the space moon travel era. High quality construction and form, fabulous design, a rare piece, especially in this large size. Metal is gold plated with alternating bright /shiny sleek as well as embossed textured bands.
Beautiful vintage condition with slight wear to the pin back bar on the back. Nothing serious and not seen at all when wearing or looking at the brooch from the front.
Did I mention HUGE????...3 dimensional!
3" round in diameter x 1" high
Highly collectible style which looks stunning on!