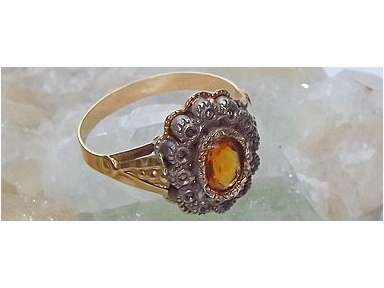 Gorgeous Georgian revival ring. Made of 12, small, rose cut diamonds in collet settings of sterling silver. A spessartite garnet is set in the center. It is trimmed in gold. All of this is on an 18 karat yellow gold band. This ring is remarkable piece of Georgian revival jewelry, made between the 1930s and 1940s. The bouquet of gems are arranged in this way to form what epitomized the fashion of the Georgian era. Not marked as to metal content but tested at 18k gold. During the Georgian period, it was common for rings to be made of 18k and sterling. Silver was thought to enhance the appearance of diamonds. Stones weren't selected to fit jewelry, instead the jewelry was formed around the shape of the stones. The ring is stamped with 3 tiny symbols but I could not make out the hallmarks. Most likely Portuguese.
Approximate Measurements
Size 8.5
4.5 grams total weight
Since the diamonds are chips, not of particular shape, and of unknown size, a measurement of them can not be taken.
Condition - Very good - excellent vintage