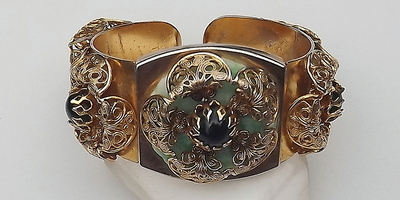 Vintage Sandor Renaissance Revival Bracelet
Signed Sandor
Patent # 1971084 dates to 1934. This may be the year the hinged cuff itself was issued as the bracelet looks slightly later, perhaps the latter 1930's to the 1940's. This number is almost completely hidden. It is seen when you open the bracelet and look inside at the hinged edge which lines up to the inner edge centerpiece panel
This is a gold plated, hinged cuff, which features a substantial, ornate, 3 panel design, First there are beautiful filigree flowers/ flower petals which give the piece a unique lacy look. Deep inside of these, in their centers, are green glass cabochon stones. Setting it all off so beautifully, in the largest focal panel, is a large, lighter colored, green, peking glass, stone. The filigree "petals" there fold over the entire circumference of this stone making a fabulous, dimensional, bracelet. . High quality construction, with hidden hinged sides that look awesome, but importantly, make it easy to slip in and out of.
Measures 1~3/8" wide at the center graduating down in width to the ends.
Oval shape inside opening measures approx. 2~1/8" x 1~1/4"
Fits a small /medium small wrist
Beautiful vintage condition with this to note: Gold tone finish at the center panel has worn off somewhat showing the silver beneath in places. Does not detract from the beauty of the piece in my opinion as this is subtle. Gold plating on the back is mostly intact but with a spot on each inner panel that is more noticeable. Still faint however. Very light "dots" across the entire back along with light scratches. Altogether a gorgeous piece!