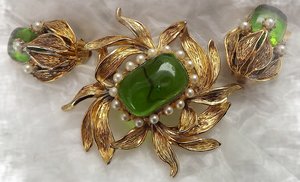 "Gripoix glass was first designed in the late 1860s by a woman in Paris named Augustine Gripoix. A glass maker who developed a technique for casting colored glass in intricate metal mounting, she went on to create gripoix jewelry for the stage as well as being commissioned by society clients to create pieces to go with their evening dresses. Gripoix jewelry quickly became popular for the stage and high society clients and soon after it was noticed by the world's first couture houses in Paris, which included the iconic Coco Chanel House. In the 1920's Chanel first approached "Gripoix" looking for reproductions of Byzantine jewelry and you can see many examples of Byzantine Chanel jewelry to this day. Chanel remained a loyal customer for life"This unique brooch and earrings set are beautiful example of authentically produced poured glass. All three pieces are signed Judy Lee.
The company has created many absolutely stunning pieces but is not acknowledged for creating high end pieces which many absolutely are. I have had quite a few stunning sets, one of which I first thought to be Schiaparelli. I have several sets still in my collection which I am thinking of listing at some point... This set is an excellent example of gripiox jewelry which the company produced in limited numbers. The brooch features candy apple green glass accented by simulated pearls. The surrounding frame design is gardenesque in nature with finely detailed leaves seeming to flow out from behind the large green center glass stone. Matching clip earrings follow the design of the pin with leaves set off by pearls and smaller, oblong shaped, poured glass, center stones. Reminds one of Chanel jewelry! Altogether a fabulous set!
Brooch measures 2~1/4" x 2~1/8"
Earrings measure 1~1/8" long x approx. 7/8" across
Beautiful vintage condition with all glass and pearl coating intact. There is a bit of wear seen to the gold finish on the back of the earrings. This is very minimal and normal for jewelry from this time period. Clip mechanisms are nice and tight. Please view all photos for best description and details.


Almost all of our jewelry is in very good - excellent used condition. However, please keep in mind because they are vintage some pieces may show very gentle wear as in slight loss of brilliance in stones, barely visible scratches on metal, and patina on metals. Obvious damage is always disclosed