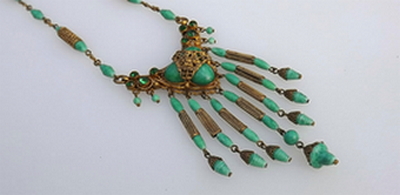 Intricately Detailed Neiger, Czech, Green Glass and Ornate Brass Necklace
Features distinct green speckled Czech glass beads with rare small glass beads and extremely rare"honeycomb" shaped beads seen in the neck chain area and also dangling at the very bottom of the centerpiece rows. Long tubular brass spacer beads with filigree and/ or fine embossing on each brass bead
The neck chain is made up of Czechoslovakian green glass honeycomb shaped beads and tubular shaped filigree brass beads. The main centerpiece features layered components of brass, glass beads, green rhinestones, filigree bead caps, 7 rows of long dangles and 4 tiny glass bead drops on either side of the main dangles. Has Neiger's added filigree brass back panel.
Measures approximately 19~1/2" long.
Centerpiece measures 1~3/4" across x approx. 3~1/2" long
The main base plate, with the Neiger filigree brass panel on the back, adds nice weight as well as adding elegance and beauty to the back view of the pendant.
Beautiful example of Neiger Bros. design and workmanship
Please view the enlarged photos for best details