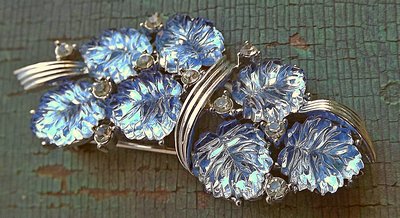 Unique Coro brooch
1950's-1960's
Check out these fabulous glass leaf stones in this Pin! Super nice detail, much like the glass stones seen in Trifari jewelry. Signed Coro. These stones make this piece pop. They are super clear, ice blue in color, very dimensional, and beautifully formed. They are foiled on the bottom. Adding to the look of this pin are small clear rhinestones. These leaf stones give a uniqueness to the brooch which I've now seen twice in Coro jewelry. One of the brooches was sold here and it is available to view in my "Coro Special Archives" category.
The metal is silver rhodium plated.
The pin is slightly curved adding dimension and form to the piece.
It measures 2.5" across (back mesurement) x approx. 1~1/8" long.
Overall a terrific piece to add to your vintage jewelry collection, especially the Coro / designer one.
I took many photos so please view them all for best (enlarged) details.