Sold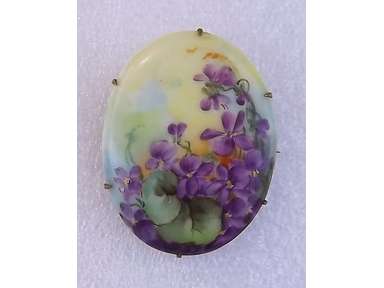 Gorgeous Antique Victorian Hand Painted Porcelain Brooch
Flowers many times were given as a romantic gesture for people in the Victorian era. A gift of flowers had meaning, and depending on the type of bloom the gift carried with it a specific message.
A white violet meant "innocence" while a purple violet said that the giver's thoughts were "occupied with love" for the recipient.
This beautifully hand painted porcelain pin shows the loveliness of the wild violet. It's a true work of art , the artist here was quite the accomplished china painter. I do know as I am a professional porcelain artist myself with works that were featured in Art galleries.
Slender C clasp dates it to the Victorian era, possibly as early as the 1880's
In excellent antique condition this oval brooch measures 2" long x 1~1/2" across
Brass metal has an age appropriate warm patina now