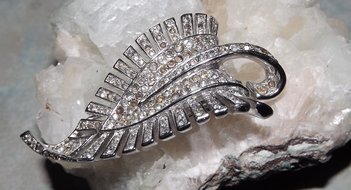 Art Deco Fur Clip by Trifari
Encrusted with pave' set stones this piece is totally Art Deco in an arrow / leaf shape, It's unique design features an elegant curving leaf stem and dimensional body and form. Silver rhodium plated, marked Trifari with the elongated mark with crown over the T signature used in 1940. This mark and clip itself are rare, online info states this mark was found on a fur clip, circa1940.
I've never seen this clip so please let me know if you have any information on. Will be much appreciated!
This piece is in beautiful vintage condition with rhodium plating intact and all rhinestones present. Some of the stones have darkened, not unusual for a piece from this era, but still brilliant nonetheless.
Measures approx. 2~3/8" long x 1~1/8" across