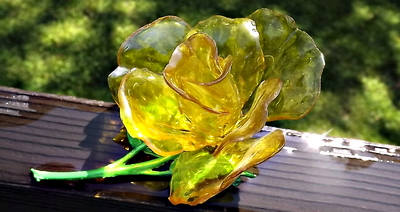 What in the world is cellulose acetate?
Cellulose acetate, synthetic compound derived from the acetylation of the plant substance cellulose. Cellulose acetate is spun into textile fibres known variously as acetate rayon, acetate or triacetate. It can also be molded into solid plastic parts such as tool handles or cast into film for photography or food wrapping, though its use in these applications has diminished.
Back in the 1930's - 40's huge flower brooches were created out of it making glorious statement pins to wear when stepping out! They are becoming difficult to find these days as the plastic is fragile and due to their size the giant petals would chip or crack if not careful with them
Fabulously Huge Cheerful Spring Summer Gardenesque Yellow Plastic Flower Rose Brooch
Stunning (and quite rare these days) this is an especially unique vintage cellulose acetate brooch. It is truly massive in size, the plastic blossom is a lovely yellow color which makes one happy just looking at it! It is in full bloom and attached to a long, enameled green metal leaf and stem
This bloom is a rose and it is seriously 3 dimensional standing approx. 2~1/4" tall, very impressive! I say approx. in all measurements here as it is extremely dimensional and difficult to measure.
These breathtaking pins were made in the 1940's era and because of their extra large size and somewhat fragile material it is difficult to find them in excellent condition today. This particular pin is in excellent vintage condition with beautifully formed triple layered petals showing no problems anywhere. The plastic is very clear with no dulling or fading and the metal area with the enamel is in excellent vintage condition as well.
If you collect these beauties, this is one to own, it is sure be a favorite in your collection as well as a striking brooch to wear. The giant rose alone measures approx. 2~7/8" long x 2~5/8" across, but is stands so so high it that it looks really huge.
The pin measures approx. 4" total length .