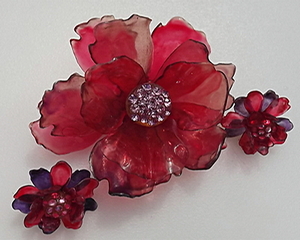 Summer of Flowers
Fabulously Huge Cheerful Spring Summer Red Plastic Flower Rose Brooch and Earrings Set
1930's cellulose Acetate
Wear it as a necklace also, view photo 2!
Stunning (and quite rare these days) this is an especially unique vintage cellulose acetate brooch earrings set. The brooch truly massive in size. It is a lovely reddish pink (but mostly reddish) which makes one happy just looking at it! It is in full bloom, quite spectacular! So, cellulose acetate is a special type of plastic which was used to make these pins back in the 1930's era. They are breathtaking in themselves, and because of their extra large size and somewhat fragile material it is difficult to find them in excellent condition today.
Both pin and earrings have brilliant rhinestones at the centers of the flowers. The pin has a safety clasp; the earrings are clip-backs.
The brooch is is in very good vintage condition measuring 4" in diameter
The earrings are nice as well, they are accented with a darker purple color around the edges. The backs of them show a color difference but this does not show on their fronts.
They measure 1~1/2" in diameter