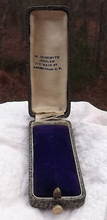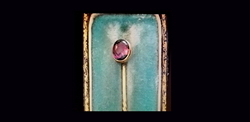 Photo on left is an example of one in a similar box. It is not included for sale here
Antique jewelers presentation box / case dating to the Victorian or Edwardian era. A wonderfully unique little box for presenting or displaying a piece of antique jewelry or for giving that special gift.
Features a greyish green embossed covering speckled with black or black green dots, made to resemble shagreen. The inner lining is is silk on the top with a plushy velvet padded bottom. This velvet is a gorgeous color, a deep cobalt blue but with a hint of purple there too. I have not seen a color quite like it. Marked M Dorewitz Jeweler 2101 Main St. Niagara Falls N.Y.
Bottom is stamped Germany.
Opens in front with a small knob that you push to release the catch.
Measures 3~1/4" long x 1~3/8" wide x 3/4" deep (outside dimensions)
Great condition for its age in my opinion. There is some light scuffing in a few very small places. Nothing serious enough to affect the beauty and look of it. Inside silk shows some fraying but only where it closes. Velvet is excellent, nothing to point out there. Snaps properly, nice and tight. I did dust it off a bit, lol. Overall a super nice...and rare...box!
Please keep in mind enlarged photos exaggerate any flaws or wear to the box. Excluding the silk frayed area inside, at the inner edge closure, any other issues show minimally. Overall it's a wonderful little box!