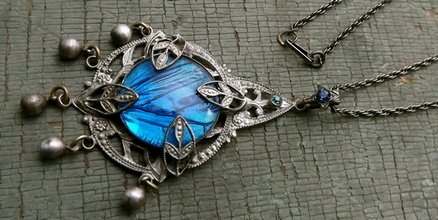 Beautiful Vintage Antique Blue Morpho Butterfly Wing Pendant.
Most likey Hungarian, circa 1915-1920.
Vibrant blue butterfly wing is enhanced by ornate silver work which has an Etruscan / Victorian feel to it. Metal features elements seen in Etruscan jewelry with raised metal beading and bell dangles. The chain is unmarked as to metal content but it has tested as sterling silver. The pendant is not sterling, not sure what the content is. It's a hard, non shiny, silver metal, quite beautiful with a wonderful patina seen best on the back of the piece.
These pieces are known as blue morpho because of the intense iridescence of the wing.
Pendant measures approx. 3" long x approx. 1~1/2" across at the widest point
Neck chain measures 22" in length with a slender hook clasp. All with a lovely patina, I gave it a very gentle cleaning mainly for removal of dust
Please review pictures for best details.