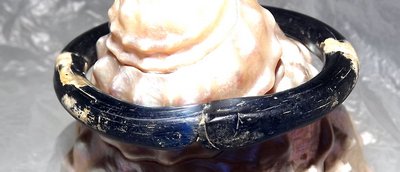 Ancient Roman Bracelet, Circa 2nd-4th Century A.D.
Features beautiful, translucent, deep cobalt blue glass. The Roman Jewelry, Apart from gold and other precious metals, used glass to make their jewelry. Roman jewelry allows us to step into the culture of this ancient country. Like other ancient civilizations, Rome had a distinct strata of social classes. In the Roman society, jewelry was worn for indicating the social status of a person. Much jewelry was attached to pieces of clothing rather than beautification. Gold was used by the artisans and jewelers for carving the adornments, and in jewelry it was believed to be the metal of the Gods and believed to have been descended from the sun. Other than gold, the materials used in jewelry making were bronze, Roman glass, bone beads, and precious gemstones, which were excavated from far off places like Persia, Far East, Indus Valley, etc.
This classic ancient Roman bracelet shows a deep, rich, cobalt blue, color. Some iridescence on body. The deep blue hue comes from the addition of cobalt compounds to the molten glass.
This piece is very well preserved. Beautiful intact condition with a very small area where it may have a chip or flake where the glass comes together. Very minor but noted. Please view photo.
Measurements: Inside opening (internal diameter) measures 2~1/8" Will fit a very small wrist only. Must also have a very small hand to fit through this opening. I have a very small hand and wrist and I can put it on but very carefully and slowly. Outer circumference - 9" Not perfectly round as can be expected.
I would say it would be best to display and not wear.
Provenance: Private Collection.
An elegant piece to display and wonderful piece of ancient history.