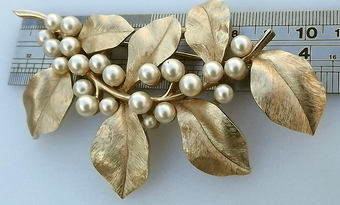 Trifari s' use of dimension and form, both textured and smooth metal work, as well as both bright and brushed gold / silver plating in their 60's designs makes for unusual, unique, high quality, jewelry.
Classic elegance, this brooch by Trifari resembles fine gold with pearls that look genuine also!
Wear it and no one knows it's not! Especially so for those of you who wear genuine gold often!
1960's Era
Iconic 1960's Brooch By Trifari
Haven't had this particular brooch in years! I have a similar one listed also, which like this brooch, showed up in my travels! I've run across some spectacular Trifari gold and pearl brooches lately. This is the best one (in my opinion). Features various sizes of glass pearl clusters set among the large leaves along a graceful, curved, stem. The leaves are finely textured in brushed gold plated metal with amazing dimension, movement, and form. Bright gold stem is rhodium plated, the contrast to the softer leaves is wonderful. A rare piece these days, highly sought after, will be a wonderful addition to your Trifari pearl gold collection as well as a spectacular pin to wear.
Very good - excellent vintage condition
SIGNED ON THE BACK WITH THE CROWN TRIFARI MARK AND A COPYRIGHT C
Measures 4~1/4" x 2~1/4" at the widest point