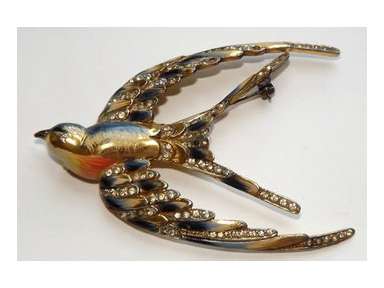 This beautiful Coro Craft swallow brooch was made and patented ( patent number 135969) by Adolph Katz in 1943. T he brooch is gold plated over sterling silver and finished with hand painted enamel details. It is embellished with clear crystal rhinestones. A substantial size the brooch measures 3" across x 2" tall /long. It is signed Coro Craft Sterling on the back. Wartime jewelry pieces such as this were inspired by Victorian sentimental jewelry and were imbued with additional meanings. The swallow represents the idea of a loved one returning home safely.
The condition is very good - excellent with bright finish, beautiful enamel and sparkling rhinestones. A very small place on the body of the bird has a tiny loss to the enamel there. Very very faint but noted. It is seen in my enlarged photos. A few rhinestones have darkened. Nothing serious and nothing that detracts from the beauty of this piece.
Don't miss out on this piece if not in your collection .