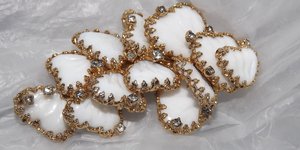 This amazing brooch is very rare, signed Christian Dior By Kramer. Can't find anything on in my research so far. I believe it also can be a Schreiner constructed piece due to the following elements seen in the piece which include:
Dogtooth prong settings, unusual, unique, 3 dimensional layered construction, rare, specialized, gripoix glass shapes, organic lily pad /flower petal glass stone shapes, light aquamarine colored crystal stone accents which are upraised in settings that are directly soldered onto the metal prongs themselves.
Art Nouveau influences include a lily pad look or perhaps flower petals layered on each other, cascading down making a springtime look. Though it reminds one of Spring, this would be a lovely winter white look as well.
It is in very good vintage condition, only issue noted is a couple of very faint stress lines on the front of 2 of the stones. Not noticeable unless looking very closely and does not affect the beauty of this brooch. All in all a fabulous pin as well as a very desirable piece for the serious collector
Measures approx. 2~1/2" x 1~ 1/2"
Almost all of our jewelry is in very good - excellent used condition. However, please keep in mind because they are vintage some pieces may show very gentle wear as in slight loss of brilliance in stones, barely visible scratches on metal, and patina on metals. Any other damage is always disclosed