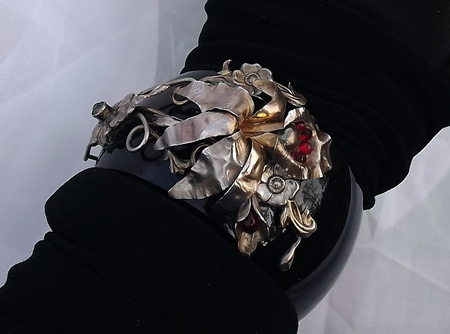 STERLING SILVER ORCHID BRACELET
A VINTAGE JEWELRY FLIP DESIGN
One Of A kind Original Bracelet
Has my Ellen Original Sterling Cartouche on the inside
1940' sterling silver brooches featured amazing, artistic, flowing,3 dimensional, designs. I love them. Especially this orchid brooch. However, it had a missing pin back so what a perfect piece to design into something else. And my favorites are wide bracelets, like this black plastic bangle. So I put them together making one stunning bracelet. There is more than simply attaching the piece to a bracelet. Lets just say I did some work to make it look like this. Also added red stones along with a second sterling pin that was very ho hum until it made it onto this bracelet.
I love it, hope you do as well.
Everything is very secure, permanently attached and easy to wear.. For a truly fabulous look wear it with vintage black opera gloves!
Please note: The black opera gloves pictured DO NOT come with the bracelet. I purchase mine at antique shows and antique malls
Beautiful condition
Measures approx. 1~1/2" wide
Inside opening measures 2~1/2" round in diameter