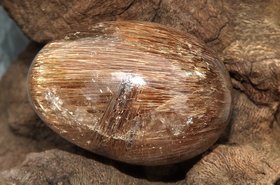 NATURAL RUTILATED QUARTZ CRYSTAL EGG
This lovely rutilated Quartz crystal egg is loaded with fine golden strands of rutile. Please view all photos showing the many patterns where the rutile needles cross all throughout the egg. Any spots you see in the photos are the quartz inclusions inside the egg. Excellent condition, no damage. I purchased a collection a few weeks ago and this awesome piece was there. I do not know of its origins.
Approximate measurements: 2~1/4" long
Weight - 118 Grams / 4.2 oz.
Please review all pictures and contact me with any questions you may have
Said to have powerful healing, cleansing, and balancing effects on the physical and energetic bodies. Can also amplify the energy of other crystals or one's own intentions. Associated with the divine, spiritual communication, illumination, and creativity. Can help one understand and solve difficult situations, as well as overcome depression and loneliness. Also helps one manifest wealth and love,
A wonderful specimen for the collector as well as for those who use stones for metaphysical purposes.
I have taken a lot of photos but please keep in mind the areas with crystals are much more beautiful and sharply distinct than my camera can pick up.
"Beautiful condition, no issues to note"