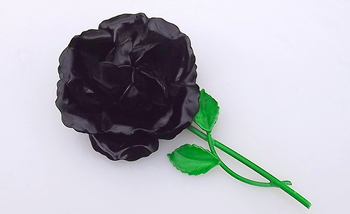 Super 3-dimensional 1960's enameled brooch, this is a huge, black enameled, almost fully open rose pin
Almost 5" long!
Features amazing construction and design with 3 dimensional flower petals which show awesome form with ruffled and furled edges and incredible depth .This giant rose sits on top of a long enameled green leaf stem that has a second stem curving gracefully behind and in front the main one.
There are a lot of vintage 60's enameled flower pins out there that are pretty but this one outshines all that I've had over the years. It is in excellent vintage condition with only a tiny bit of enamel loss on the inside edge of the smaller green stem and leaf. This does not show when wearing it or looking at it straight on and very normal for a pin with this type of heavy enameling.
The rose bloom alone measures approx. 2~1/2" in diameter and is so 3 dimensional that it stands up and out 1" tall. The total length of this beauty is 4~3/4". Being so large and totally black it was difficult to capture the detail and total form of this bloom as well as the depth seen in each separate petal. Please keep in mind it is much more spectacular in hand than I could capture in the photos.