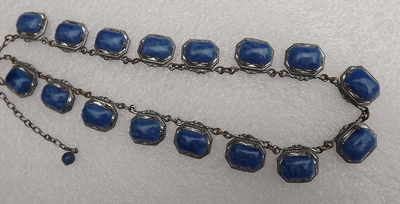 Gorgeous 1930's Art Deco Czech Collar Necklace
Rare Mottled Dark Blue Satin Glass Stones
8 Sided Geometric Shaped Links
1930's Era
Unsigned Czech
Beautiful Art Deco Czech Necklace features a rare glass stone which I hardly ever run into.
Sometimes mistakenly described as Lapis glass, this glass is not the same at all.
Check out the close up photos and you will see a subtle mottled design in each stone as well as a soft, satiny, sheen.
There are 16 silver plated oblong/square stations featuring this lovely glass stone. The settings, as well as the stones, are 8 sided geometric shaped with each glass stone cut to match the shape of the setting perfectly.
The glass stones are thick enough to rise above the settings. They are prong set. This piece is in very good vintage condition for the period. The original clasp that came with the necklace is a silver plated spring ring style which, though not pictured, will come with the necklace. Because this necklace is short, 14.5", I removed the clasp, and added vintage, 1930's period chain, which has the original hook clasp, to lengthen it. More on that below. But you will have the original necklace as it came. If you don't want the extender chain please email me and I can remove it and put the spring ring clasp back on. I'll then keep the extender chain
Condition details are mainly pertaining to the silver plated finish. It is mostly intact, however, the brass base metal does show in a few areas. This is mainly on the back of the metal links, a few connecting jump rings, and on one or two connecting loop edges on the top of the stations.
Glass stones are excellent
Original length -14.5"
The extender I added,( includes chain on both sides), is sterling silver and measures 5" altogether so the new length is 19" total adjustable length
Please see photo for link/station measurements