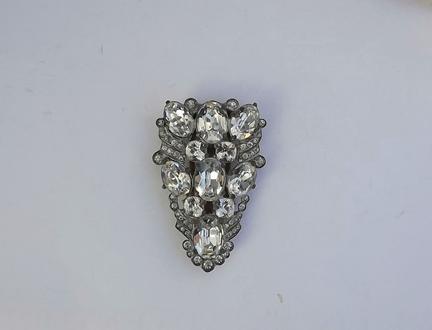 Fabulous Art Deco Eisenberg Original dress clip
1930's era

Signed Eisenberg Original
Big,

Austrian crystal stones

Beautiful design
spectacular brilliance

The three biggest stones seen in the center of the clip and measure approx.
16mm long x (approx.)12mm across.
The other four are slightly smaller, just very slightly.

Then there are the equally brilliant and super faceted squarish round stones
so distinct in old Eisenberg Original pieces.
These are accented with several sizes of the small round Austrian crystal stones.

The decorated area of the clip is made of pot metal and
the clip mechanism itself is made of a different type of metal


This piece is in excellent vintage condition for its age.
silver plated all over but the metal has darkened over time leaving a nice patina on the piece.
The stones are all present, still brilliant and clear for a piece this old.
The foil on the back of them is completely intact with no black spots showing through anywhere.
There is a very tiny flea bite on one or two of the big oval stones but nothing
that you notice unless scrutinizing very closely or looking with a loupe.

If you are really looking for imperfections you will see
that some of the small stones have tiny dark spots in the inside center points
and some that have slight fading and or discoloration.

This is normal for the age of the piece and noticeable
only if looking very closely under magnification or with a loupe.
When viewing normally all are brilliant.


Measures 2~7/8" long x 1~3/4" wide