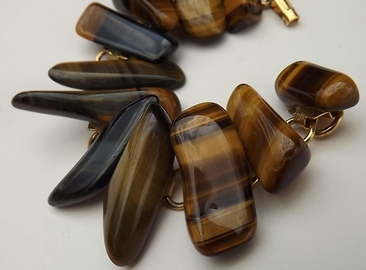 Vintage Tiger's Eye gemstone bracelet features huge polished, freeform stones, each set on a wide, gold plated, link chain. Settings, or stones set like this, were made in the 1960's. Most of the stones happen to be huge, absolutely stunning! One measures 1~5/8" long, another 1~1/2", most others over 1". They graduate down in size to the ends making an unusual organic designed piece.
These stones are high quality with one blue tiger eye stone in the mix and one very rare stone which is 3/4 blue tiger eye and 1/4 brown tiger eye.
I've had this bracelet for many years, it fascinated me when I bought it and it also fit my 6~1/4" wrist nicely. But as always, I meant to sell it when purchased, but sure didn't let it go. Now, 15 years later, is time before I change my mind, lol!
Excellent vintage condition
Measures 7" long but due to the large stones it will fit a 6~1/2" wrist or smaller
Blue Tiger Eye (also called Hawk's Eye, Tiger's Eye, Tigereye) - A very soothing stone it helps in reducing stress, increasing calm and easing anxiety. Shimmering softly, Blue Tiger Eye can illuminate issues that may have been difficult to see otherwise. Blue Tiger Eye helps to open, clear and align the mid to higher range chakras, which will assist in speaking with clarity and acting from a place of integrity.
Brown Tiger's Eye crystal properties encourage you to live boldly, fiercely and bravely in all aspects of your life. When you need a boost of courage to help you overcome fear or take risks in your life, this beautiful brown stone with with its' shimmering golden threads which seem to seem to glow, are a perfect choice!