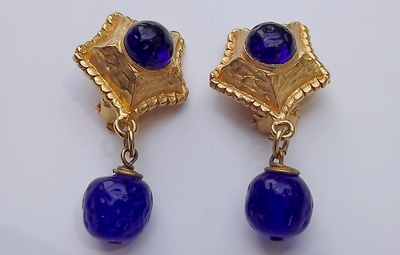 Vintage Dominique Aurientis Paris Large, Blue Poured Glass, Clip on Earrings.
Striking, rare, cobalt blue, poured / gripoix glass, make these earrings extremely unique!
Exceptional rich gold plated metal makes the blue stones pop! Gorgeous!
The bottom glass beads / drops sway gently as you wear them.
Sculptural dimension and form
signed "Dominique Aurientis" in a circle around "Paris" in a round plaque on the back.
Total length measures approx. 2" long
Top station measures 1" across x 1~1/8" long and stands approx. 3/4" high
weigh 1.03 oz / 29.2 grams
Nice weight, look and feel like real gold jewelry
Excellent vintage condition! Clips function properly, hold the earrings firmly and comfortably
Aurientis graduated from the Sorbonne and worked for major couture houses, some of which include Christian Dior, Lanvin and Givenchy. In 1986 she went out on her own to find international recognition and acclaim. Time spent in Bali influences her work, as may be seen in this exotic design. Her jewelry has been featured in major department stores both in the US and abroad and is known for the high quality, timeless design and seductive appeal that makes each piece unique as well as an object of desire. These earrings are a terrific example of her work.