Sold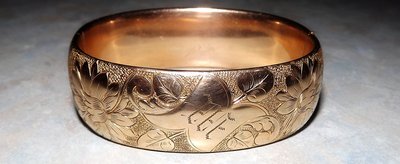 Exquisite antique 19th century Victorian extra wide gold filled bangle bracelet. A stunning, substantial piece which weighs 53.1 grams. It is hallmarked inside the hinge clasp S.B. Co. This hallmark is the signature of Standard Button Company. who were a 19th century American jewelry company. This lovely, antique, bangle is in superb, all original, condition, where the only wear seen is indicative of its age. This includes almost invisible faint surface scratches (normal, low visibility). Two areas of more visible scratches are seen on the inner side of the piece where it seems that someone tried to determine if the piece was fine gold by lightly scratching into it. There is also a tiny mark at a rim where the same attempt to check it for fine gold can be seen. One extremely small, shallow, indentation on the reverse side that was too minor to show up in my photographs is also noted. All of these are hardly noticeable and are pointed out for complete accuracy in description details. Otherwise its rich and shiny gold fill has no visible wear at all other than the inner locking hinge where it's marked. Surface color is even with no tarnish or discoloration of the metal. (any dark spots in photos are from reflection only). Overall beautiful antique condition which is quite rare for a bracelet from this era. The large, well made, hinge and push button clasp both work perfectly and are very secure. Close straight and even with a definite click. The intricate ornate hand engraving is beautifully done and encompasses the entire bangle's front section. Ornate florals, beautiful swirls, and detailed etched areas add interest and beauty to the overall design. Initials EEE which made me want to keep it as my initials are EE, lol. Absolutely a wonderful piece of antique Victorian jewelry that is still very wearable, a classic look that will always be in style.
Please view all photos and email me with any questions you may have.
Fits a very small wrist as with most of these Victorian bangles.
Inside opening is oval in shape and measures 2~1/2" x 2~1/16"
Weighs 53.1 grams