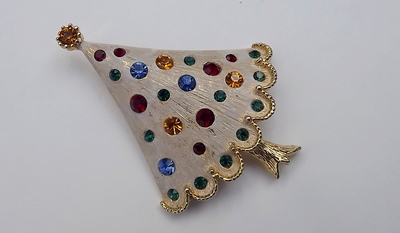 Unique 1970's Christmas Tree Pin
Beautiful Christmas Tree brooch features gently textured light gold plated metal which has an intermittent layer of white enamel over it allowing glimpses of the light gold beneath to peek through. Jewel tone rhinestones are set throughout. Along with the festive, scalloped bottom, this charming tree looks like a delicious Christmas Tree cookie, good enough to eat, lol!
Very light gold plated metal looks like silver in some lighting conditions.
Very good vintage condition, no issues to note
Measures 2~1/2" long x 1~7/8" across