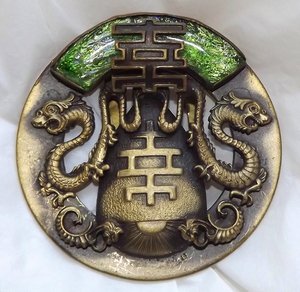 "In the 1920s, Egyptian and Chinese style jewelry was popular.
The history of the company, as well as the very fate of the Niger (Neiger) brothers, is short and tragic. Norbert and Max Nyger (Neiger) were at the height of their careers when the Nazi regime invaded their homeland making them flee to Czechoslovakia. After the occupation of Czechoslovakia, they were arrested and in 1942 died in the concentration camp Auschwitz (Auschwitz)".
But their masterpieces live on to be the most sought after pieces in Czech jewelry
A fabulous design by Max Neiger / Neiger Bros, a stunning 1920's Art Deco Dress Clip with a Chinese theme. Features gilt metal embellished with four figurative dragons resting up against a center designed "vase" with Chinese symbols/letters on it. Above that, at the top, is a spectacular, rare, art glass curved stone, which resembles ancient roman glass. It is iridescent teal green with flashes of aqua when turned against the light. A mesmerizing, incredible stone which is not seen much, if at all, in Neiger jewelry. The detail is intense with beautifully formed dragons and lightly textured metal work on the vase. A piece to own if you collect Neiger Bros. jewelry.
In excellent vintage condition measures 2~1/8" round in diameter