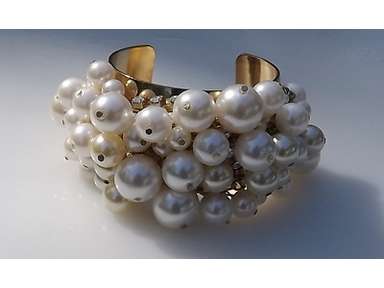 Fabulous ChaCha Pearl Cuff Bracelet! Super Cha Cha Cha, lol!
Chunky Wide Fun Piece!
If you love over the top fabulous pearls in costume jewelry this bracelet is for you! I've had it over 10 years (yes. I love pearls too) but am downsizing so since I know several pearl lovers I'm hoping it goes to one of them (so I can visit it)
Maybe Linda P?
Not all that old, purchased it new in 2008, never wore it, not because I don't love it but it's really too big for my wrist and tends to roll on me. But I have a really small wrist so that's normal for me. I simply loved just looking at it.
Adding to its charm sparkling rhinestones, small pearls, and lovely gold chains seem to be peeking through beneath the pearls
Inside cuff opening measures 2~3/8"( east to west) at the center x 2" (north to south) x 1~3/8" at the narrowest ends
2~1/2" wide. probably more, if measuring with a soft tape to include the dangling pearls
The gold plated cuff has some give so one can adjust it a bit
The pearls seem to be made of glass beads as it's heavy.
Excellent like new condition